Life, Liberty, and the Pursuit of Happiness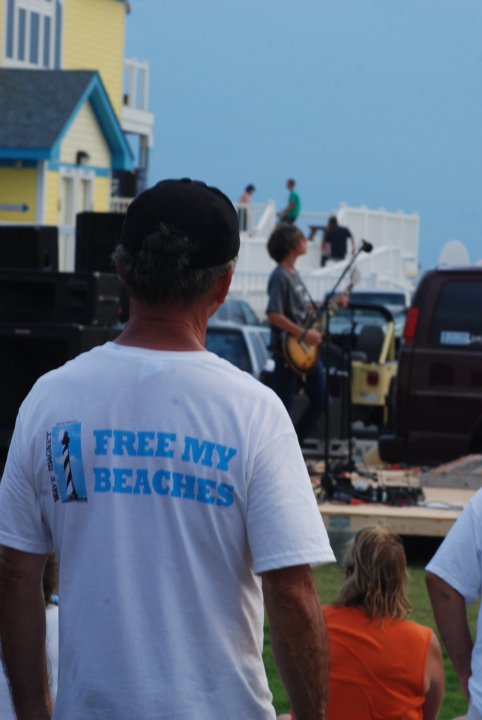 History of Inalienable Rights
The Declaration of IndependenceThe Declaration of Independence, one of our nation's foundational documents, states in simple eloquence a philosophy of government which is profound, viable, and Biblically correct.

In the words of the Declaration,
We hold these truths to be self–evident,

That all men are created equal,

That they are endowed by their Creator

with certain unalienable Rights,

That among these are Life, Liberty and the Pursuit of Happiness.

That to secure these rights, Governments are instituted among Men,

Deriving their just powers from the consent of the governed.

Free beach access is vitally important to all beach lovers, whether they just stroll on them in the midnight breeze or if they are trying to catch the big one that just barely got away.

As for surfers, they are always willing to share their special stories of how hollow it was or as fishermen do, how big it was, but the special stories are always those shared with friends when they catch it just right, uncrowded, with their friends.

As a surfer since 1962, I discovered Cape Hatteras long before it was popular. I was lucky. My Dad was a hardcore, good – no, a great – fisherman who loved Cape Hatteras and the uncrowded areas that others seemed to know nothing about.

Throughout the '60s was the best of times because it felt like our very own paradise.

Yes, time does change many things, and we know that it is often times called progress.

Once again, as fishermen, surfers, and just ordinary beach lovers, we know that if any beach in the world closes off access, then we have all lost.

Crowding people into "commercial zones" is never a viable alternative.
In the case of the Outer Banks and, especially Cape Hatteras, we all know that it isn't the buildings, it isn't the glitter, nor is it hype that attracts the masses.
It is an attraction that few areas are blessed with at all.
God did this area well. Most people don't realize how really perfect it is.

It is simply the ocean, the beaches, the friendliness of locals, and the sense of peace that the area naturally offers.

I have no answers, nor do I have a viable solution, but I know for sure that, yes, the environment is important, but certainly not the most important. Beach access, free beach access is the attraction and the freedom is worth protecting.

If this right is denied to those who love this area the most, then what we have really lost is our rights to life, liberty, and the pursuit of happiness.

Aren't we as Americans guaranteed those rights?

Shame on those who are blinded by either greed or by some misguided environmental political power move that blinds their perspective.

Human rights should be held in the highest regard and those who have never set foot on the sands of Cape Hatteras to fish, surf, or even walk, will never understand nature's freedom and how it enriches one's soul.

Collectively we all are caretakers of the coast and have been long before this controversial issue.

I pray that the decision-makers rule in favor of exactly what the locals desire and that blind ignorance doesn't prevail.

Just look north to Virginia or south to Myrtle Beach and then breathe in the salt air slowly in Hatteras.

What you're breathing in is freedom, and that is definitely worth protecting and educating others of its value.

Those opposing freedom should leave well enough alone and go home.

I predict maybe a long battle, and at times it may even feel like a losing battle, but the Hatteras I have grown to know always seems to win.

Why, you may ask, and I'll say simply just this -- because it's Hatteras.

If your community wins, we all win.

Rob Beedie
Global Surf Network




Sunday May 19, 2019 Event Information
Atlantic Wildfowl Heritage Museum Event
@ Virginia Beach, Virginia Oceanfront
GSN 'Rock The Coast' Concert
Concert Event Bands & Vendors List
Only 200 raffle tickets @ $5.00 each will be available at the event above so be sure to purchase one and maybe you will be the winner of the Limited Edition 50th Anniversary Endless Summer Book & Box Set that is Signed & Numbered. I'm sure that winning this would 'Stoke You For Summer'. See You There !
Dealer Inquiries Invited
Individual Orders Accepted
Book & Box Set Video Before Purchasing
CERTIFICATE OF AUTHENTICITY
Each unique book is hand-numbered and hand-signed and will come with signed certificates of authenticity. Additionally, you'll receive a commemorative medallion of The Endless Summer's 50th Anniversary of its Global Release, as well as your own piece of history: Five frames of the original film print.

YOUR OWN PIECE OF HISTORY
You will literally own your very own piece of history as each book is completely different and packed with artifacts from the film, including a 5-Full Frame Film Strip from the Original Film Print, a Remastered DVD of The Endless Summer, a certificate of authenticity hand-signed by Filmmaker Bruce Brown, iconic Graphic Designer John Van Hamersveld, and the American Surfers featured in the Endless Summer, Robert August and Mike Hynson. Not to mention letters, postcards, maps.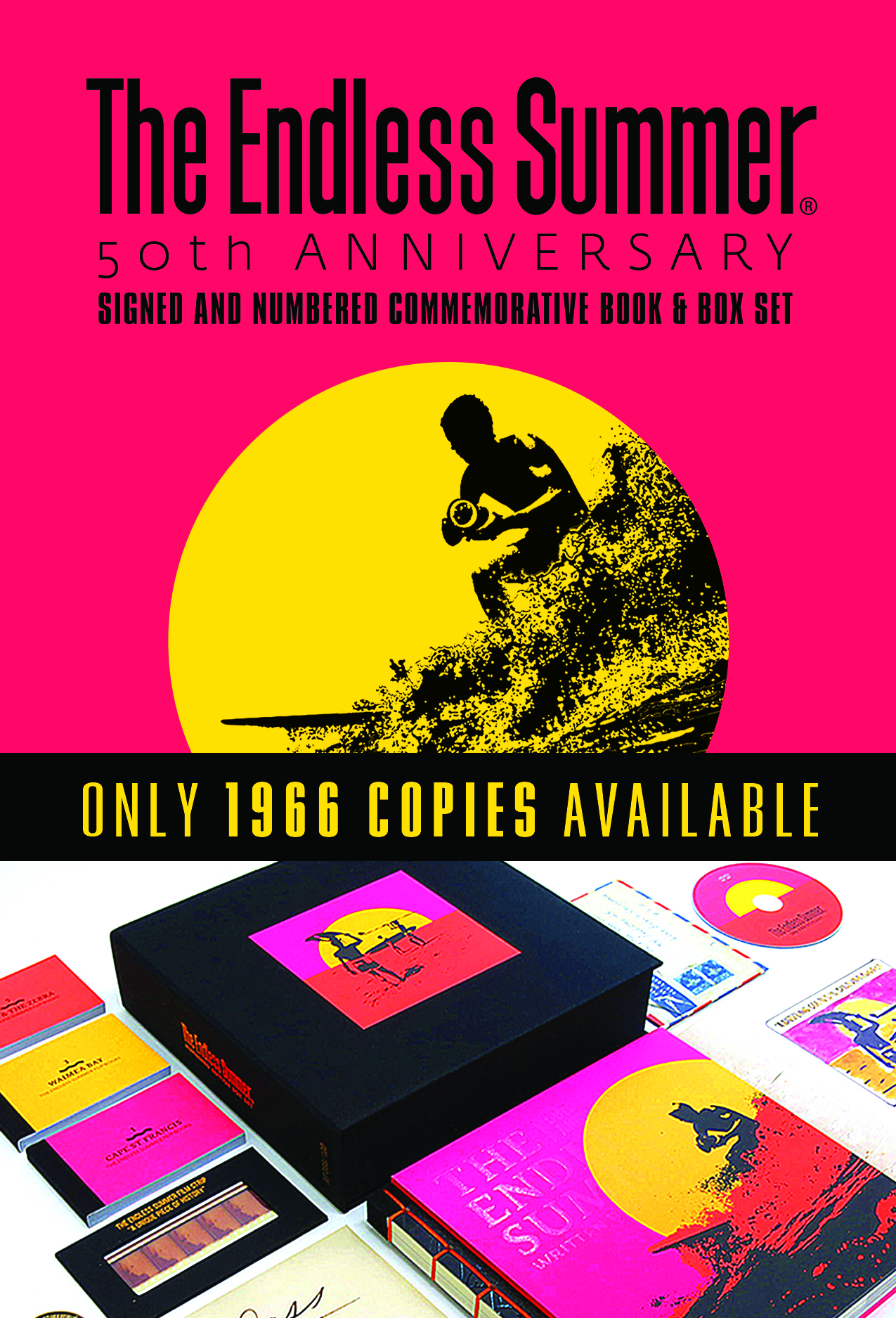 Limited Edition Signed & Numbered
50th Anniversary
Endless Summer Book & Box Set

Sale Price $395.00
Endless Summer East Coast Representative
(757) 633-7445
Global Surf Network 222 West 21st Street Suite F-132 Norfolk, Virginia 23517